Can Broken glass in double-pane windows be repaired?
Why glass must be replaced
Hot or cold air can enter your home depending on the season. This will quickly lower your furnace or AC's efficiency. Air can flow through double-pane windows more easily if the glass is broken or cracked. This can reduce the effectiveness of your windows as insulation and a barrier against the elements. Your HVAC system will eventually become more efficient at maintaining a comfortable indoor temperature, which can lead to drafty homes. Your HVAC system can also be put under stress, which can lead to higher energy bills and more expensive repairs.
Can I replace the panes myself?
To properly remove and replace damaged panes, you will need special tools. You might be wondering if you can replace the glass in your double-paned windows yourself. This job can be dangerous and may result in serious injury if you don't have the proper tools and knowledge. If your double-pane glass is broken or damaged, you should contact a professional with the necessary tools and experience to repair it safely. You have broken the glass in your double-paned window. No matter what the cause of the broken glass is, it cannot be repaired. To maintain the window's efficiency, it is necessary to replace both panes of broken glass in double-pane windows. We will explain why broken glass cannot be repaired in double-pane windows and how to fix them.
Are Both Panes Required to be Replaced?
Double-pane windows have two panes made of glass with air or gas between them. This acts as insulation and protects your windows from the elements outside. Double-pane windows can also increase the efficiency of your HVAC system, as they help maintain an indoor temperature. If one pane breaks or cracks, air or gas escapes and the window lose its ability to properly insulate. While it is possible to repair a single-paned glass window, it is not recommended that you do so with a double-paned window. Instead, you should have both panes installed and taken apart.
Repair Versus Replacement
Repairing a pane in a double-pane glass window requires only a temporary solution. This usually involves an adhesive being placed within the cracks. The adhesive can be either a special type of putty or a tape that prevents the window from shattering or cracking further. The temporary repair does not require that the glass be taken out, but it will eventually have to be replaced.
A replacement is required if the glass has been broken in either one or both panes. If the frame is not damaged and is still intact, the glass can be changed. To avoid weather damage to your home's interior, you will want the replacement to be done quickly.
Professional Glass Replacement
Double-pane windows are a great way to insulate your house against the elements and increase the efficiency of your HVAC system. Double-pane windows can be damaged or broken. Don't attempt to fix them yourself.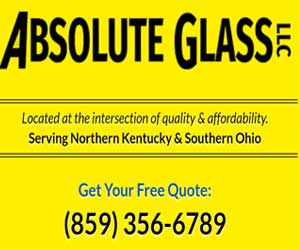 Address: 607 Spring St Ste D
Elsmere, KY 41018
Phone: (859) 356-6789
E-mail: bsowders@absoluteglassllc.com
Northern Kentucky's Top Choice for Affordable Glass Repair, Replacement & Installation
From fixing cracks to replacing entire doors and windows, we do it all! "Absolute Glass, LLC is a family-owned & operated glass repair and replacement specialist based in Northern Kentucky. Our team is highly experienced in a wide range of both residential and commercial glass services. We take great pride in ensuring each job is hassle-free and professional, all the way from the original quote to the final installation. Our commitment to quality work is demonstrated by a 100% satisfaction guarantee and a 1-year warranty on all labor. If you should discover any problems with our work, it will be corrected free of charge! Additionally, all our products are backed by the individual manufacturer's warranty.